How to add a recipe
The recipes help you compose the schedule of your daily diet. Rather than enter all the foods you eat, you enter the name of a recipe and the amount consumed, the software will extract the ingredients.
A recipe can be just a list of foods you eat often together in the same meal.
The interface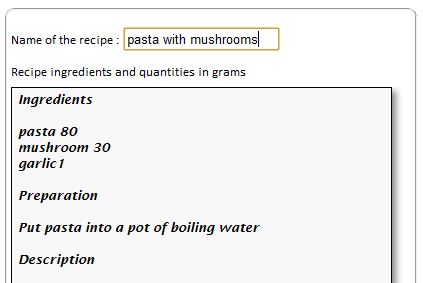 The name of the recipe is assigned by default with the current date. You can keep this name or enter another.
Add the name of a food and the quantity in grams. Click add to complete the recipe / menu.
Repeat for each ingredient or food.
Saving the recipe
When all ingredients have been added, click on the category recipe: main dish, starter, etc ... Failing to categorize it,select "Extra."
Click to add the recipe to your personal list.